BAJA: Edge Of Control
Project: BAJA: Edge Of Control - THQ
Platform: Xbox 360, PS3
Time-frame: 2 1/2 year
Team Size: 20 - 25 + some outsourcing
BAJA: Edge Of Control was 2XL Game's first title on XBOX 360 and PS3. I was in charge of creating race tracks for a few maps, and also created the full "Canyon De Chelly" level, from terrain displacement and world objects to all the shaders needed.
>

More...
One of the many challenges we faced was creating vast and detailed 9 square miles worlds, where the player could freely drive anywhere he wanted within these huge areas without getting a feeling of "deja-vue". Although the levels were big environments, they still needed lots of details in the areas where the race tracks had been carved, as we tried to design them with as many bumps and ruts within the geometry as we could - instead of putting these in normal maps only - so that the player would really feel each bump or rut he saw on the racetrack. Most terrains were between 1 - 1.5 million triangles with most of the details focused around the racetracks.
BAJA has many racetracks, around 10-12 per location with a total of aprx. 96 courses, including A to B rally and baja events taking up to 25 minutes to complete per map, running along dirt roads and bumpy trails in free-roam, point to point racing. Carving up realistic looking roads was a fun process, with a playground as big as BAJA's enormous maps. To give you an small idea of the amount of roads you can drive on within 1 map, "Canyon De Chelly" - the level I was mostly in charge of - has just over 100 roads crossing its landscape.
>

Some Source Files (displacement map, textures)...
Here are some images of the terrain, roads and tracks:
This is the full displacement map for Canyon De Chelly. We used 16bit 2048x2048 maps for the terrain displacement.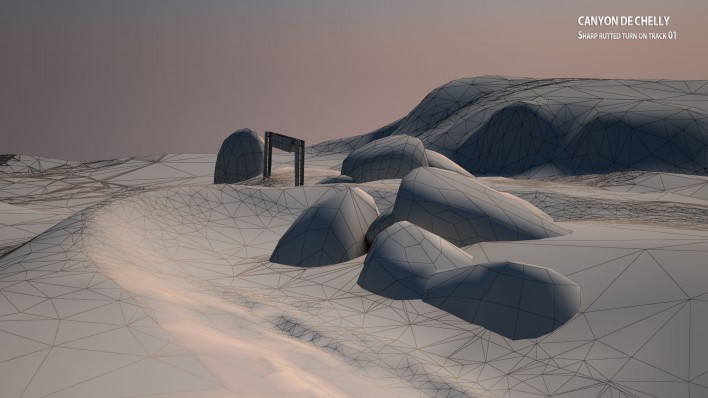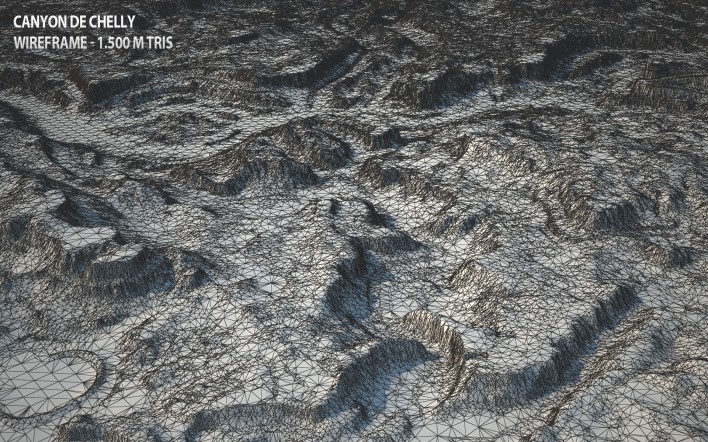 >

Environments...
I created terrains and tracks for 3 of the 9 environments (Canyon De Chelly, Cocono and Cabos San Lucas):
Many objects were used to populate these wide-open worlds. Some small, some bigger, but mostly low-poly buildings to maximize the frame-rate across all levels. I was tasked with creating most of the assets needed, and also implement all the outsourced art coming in for Canyon De Chelly level. Rendering lightmaps and ambient occlusion maps required a lot of organization within the 3ds max file, as we had tons of different groups of objects which each needed their own maps.
>

Race Tracks...
Here's a small preview of all 13 tracks I made for Canyon De Chelly

I also created tracks for the Cocono level

Share